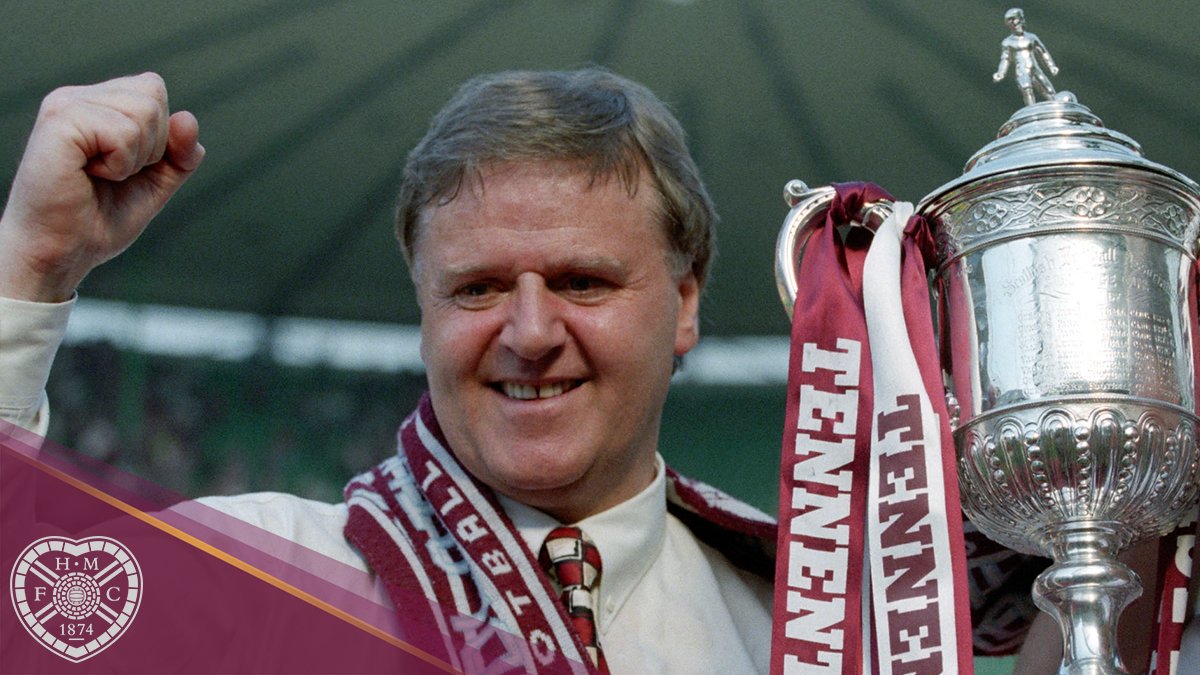 Everyone at Heart of Midlothian Football Club would like to wish former captain and cup-winning manager Jim Jefferies a speedy recovery after he took ill earlier today. Get well soon, JJ! ❤️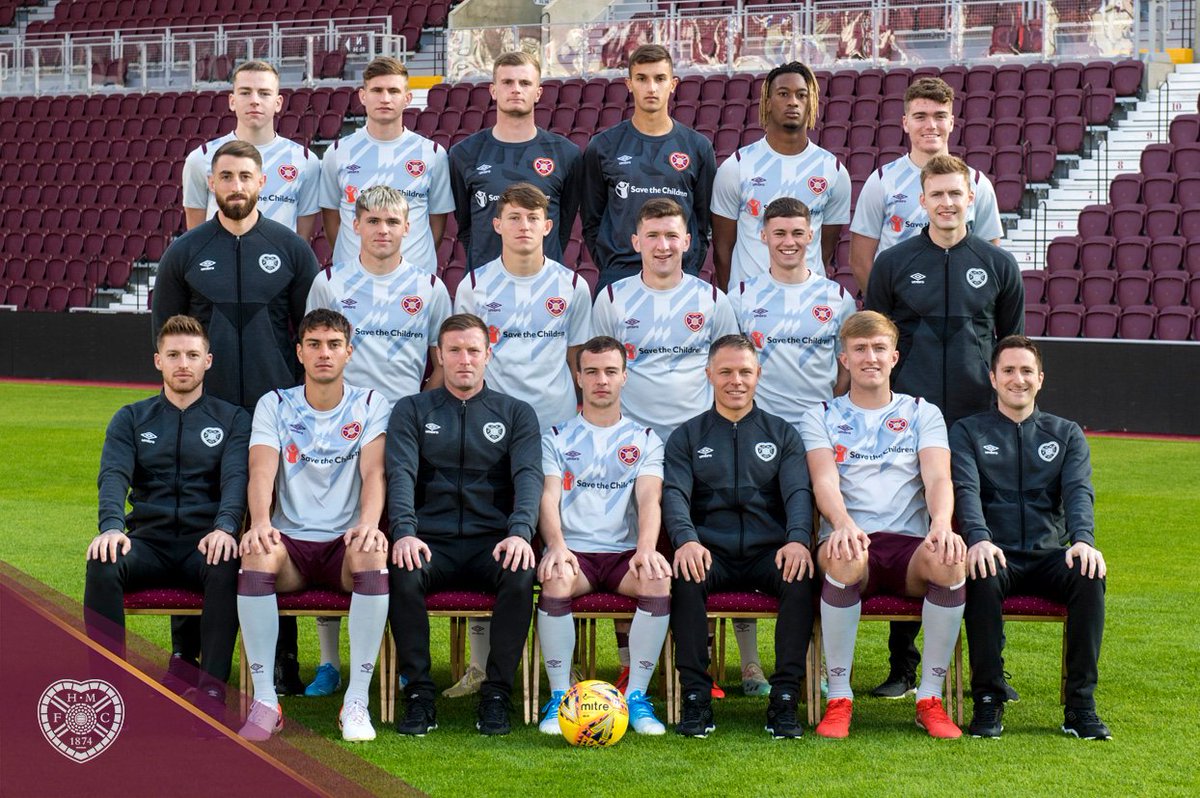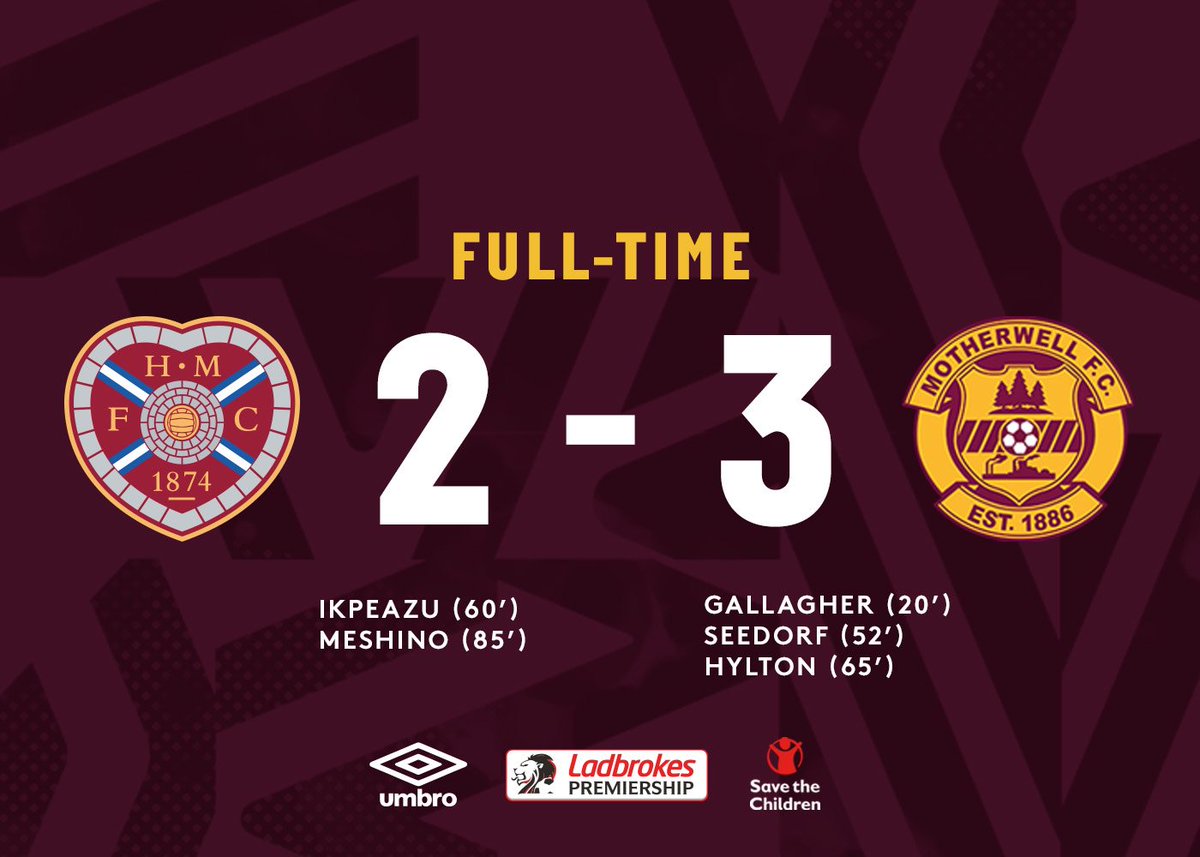 Full-time at Tynecastle: Hearts 2 - 3 Motherwell.
90' | 2-3 Long skips past Halkett and races through on goal - only to be denied by a superb Colin Doyle save. Four minutes of added time to be played.
86' | 2-3
@rytr_msn0618
gets his first goal for Hearts! Dancing past defenders, he shimmies it onto his right and shoots from distance, straight into the bottom corner!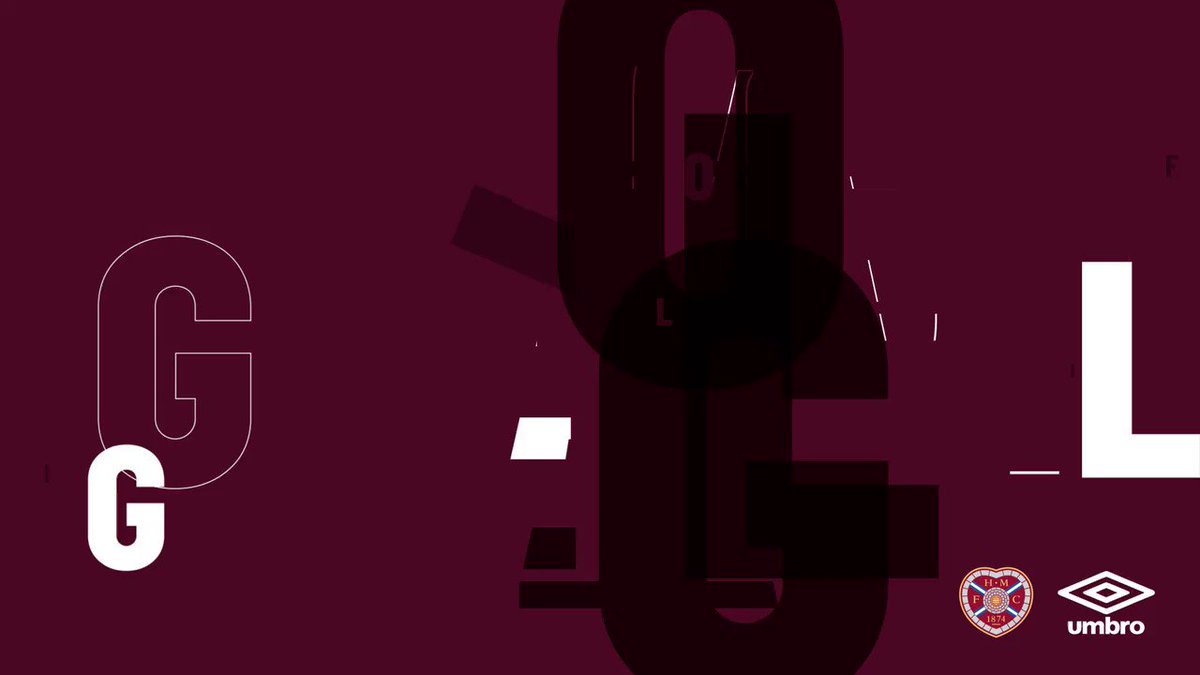 GOALLLLLL RYYOOTAAARROOOO MESHINNNOOOOOO!
80' | 1-3 Conor Washington is off - immediately clutched his hamstring after trying to control a long ball. With all three changes made, the Jambos are down to ten men.
77' | 1-3 Final Motherwell change - Mark O'Hara replaces James Scott.
73' | 1-3 Meshino finds Washington who skips past his man and fires at goal - but Gillespie makes a good save.
71' | 1-3 Devante Cole is replaced by Christopher Long in Well's second change.
65' | 1-3 Goal Motherwell. Washington squanders a chance and Well counter. Hylton dummies Doyle and slots into the empty net.
65' | 1-2 Sherwin Seedorf is replaced by Jermaine Hylton for Motherwell.
63' | 1-2 Final change for Hearts - Conor Washington replaces Jamie Brandon.
GOALLL! UCHEEEEEE!!! Damour finds Meshino, who stays on his feet well to fire a shot away - Gillespie saves but Uche nods in the rebound!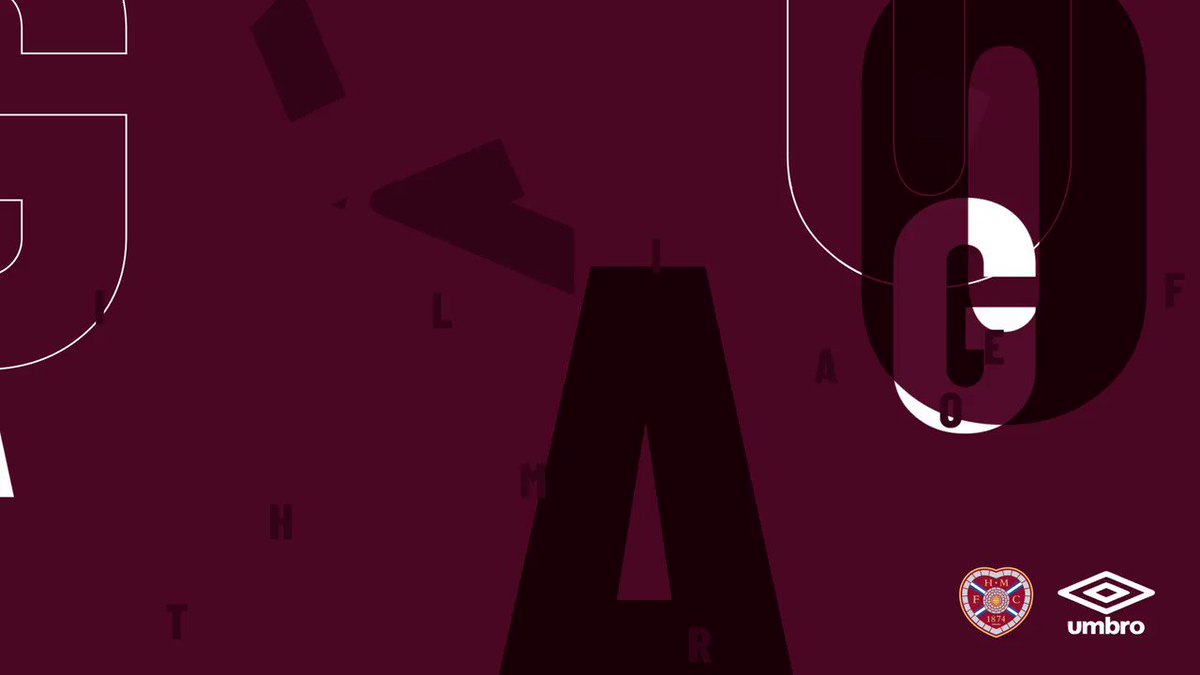 58' | 0-2 Free-kick to Well right on the edge of the area as Hickey fouls Scott. Polworth stands over it.
57' | 0-2 Halkett into the book for wiping out Seedorf near the half-way line.
53' | 0-2 Seedorf then goes into the book for removing his shirt in celebration.
53' | 0-2 Goal Motherwell. Sherwin Seedorf runs forward and rasps one in off the underside of the bar.
50' | 0-1 Hearts readying their first change - Andy Irving off, to be replaced by Loic Damour.
The teams are out and there's no changes for either side - Euan Anderson gets us back underway!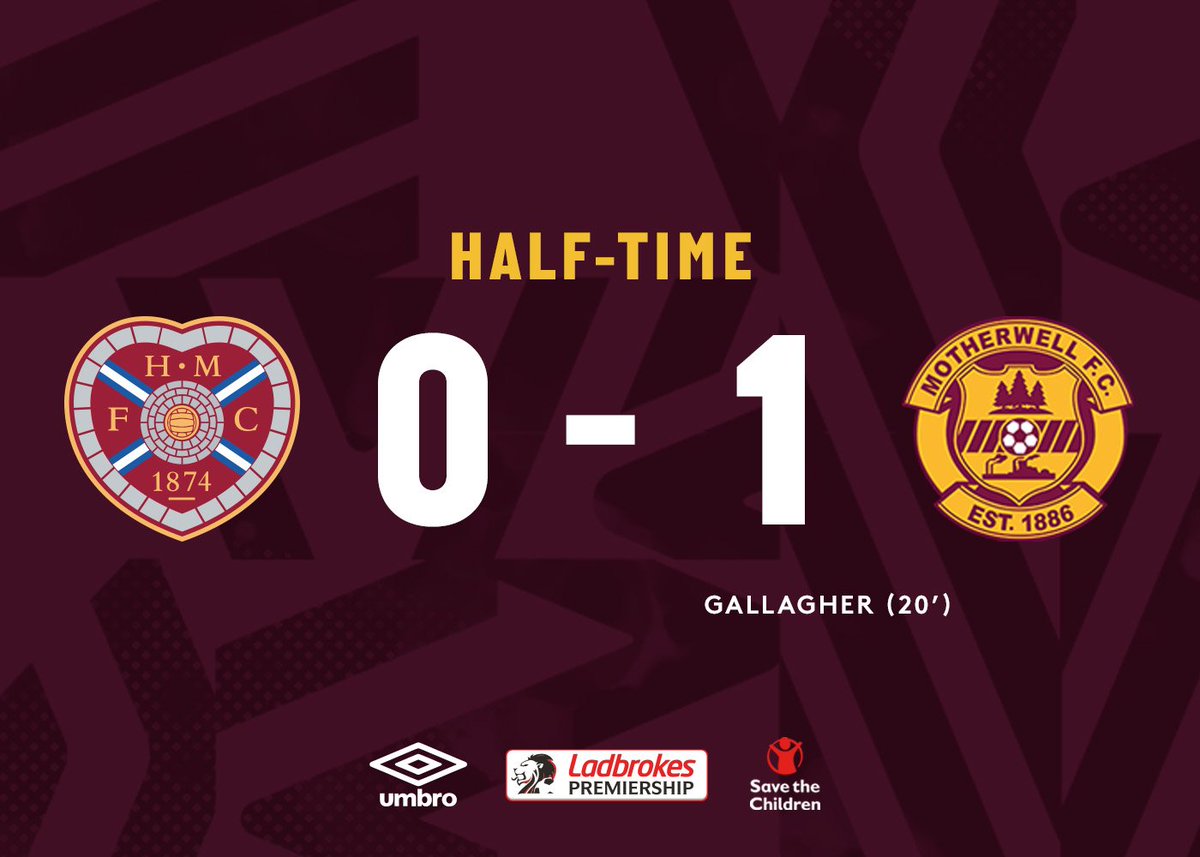 Half-time at Tynecastle and the visitors lead.
44' | 0-1 Motherwell counter and Scott slips it to Polworth one-on-one. He tries to chip it over Doyle, but the keeper reads it and gathers well.
43' | 0-1 Mulraney shows good footwork to win a free-kick off Grimshaw. Irving to curl in... but it's headed away at the front post.
39' | 0-1 The ball drops to Hylton on the edge of the box and he fires it at goal, but Doyle is fully behind it.
38' | 0-1 Donnelly jinks into the box, cuts onto his right and rasps one off the crossbar. Close again for the visitors.
36' | 0-1 Devante Cole is played in behind and he looks to have slipped it under the keeper... but Doyle gets a touch and it goes just wide! Corner to Well.
30' | 0-1 Huge chance for the hosts! Uche makes a great run down the left and squares nicely for MacLean. He lays it off for Clare, but Gillespie saves his effort!
29' | 0-1 Good counter from the Jambos and Mulraney gets his cross in but no one can connect. It comes to Brandon at the back-post, but he gets his shot wrong.