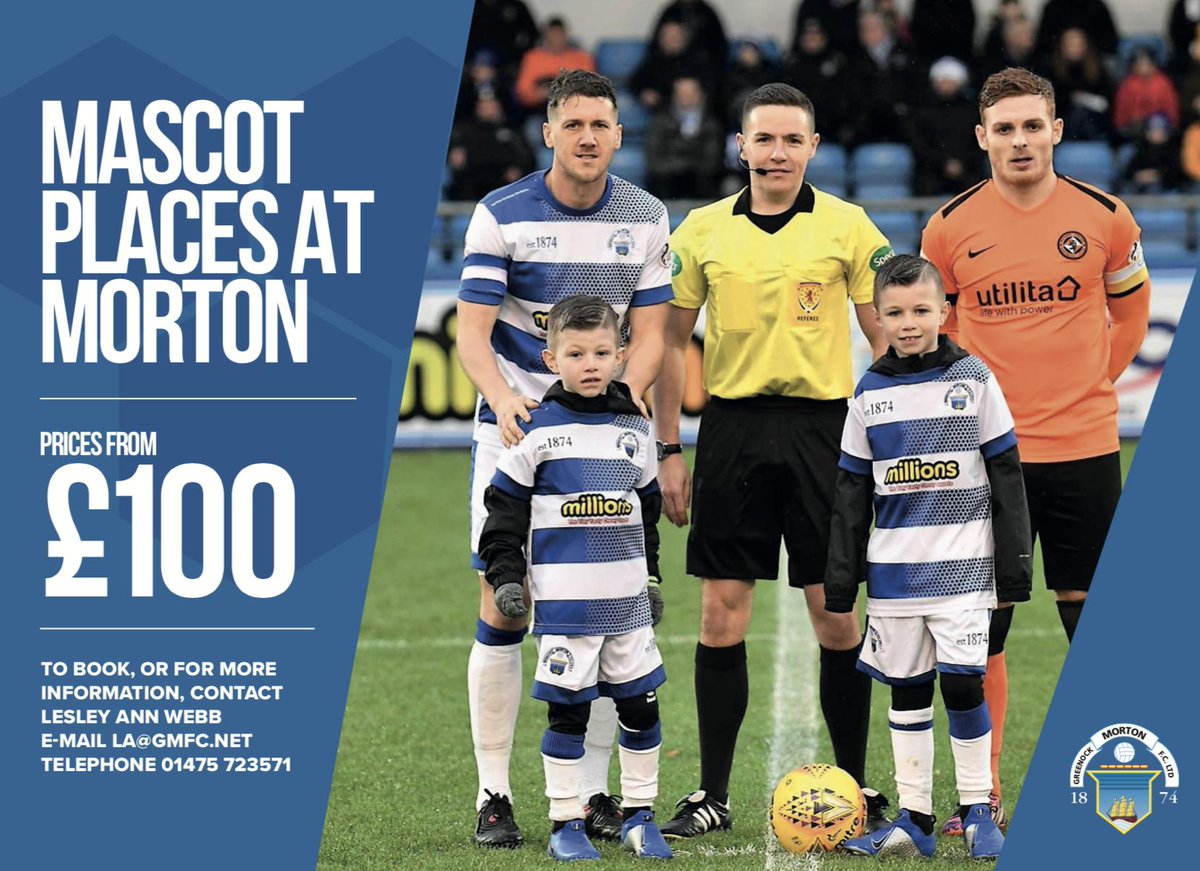 We still have mascot spaces left for this Saturday's game against Dundee. Book the perfect gift for any young (and old) Ton fan today! To book a mascot place, or for more information, please contact Lesley Ann Webb on 01475 723571 or e-mail
[email protected]
FULL TIME: Queen of the South 1-0 Morton. Queens first half goal proved to be the winner here at Palmerston as the Dumfries side were able to contain Morton's high pressure towards the end of the game. A game which Morton will feel they deserved at least a point from.
90' Cameron Salkeld booked after an altercation with Michael Paton.
86' Substitution for Queens: OFF: Stephen Dobbie ON: Darren Lyon
82' WHAT A SAVE! Queens goalkeeper pulls off a miraculous save to deny Nicky Cadden's free kick effort which looked to be heading into the net.
78' Substitution for Queens: OFF: Gary Oliver ON: Jack Hamilton
76' Substitution for Morton: OFF: Lewis Strapp ON: Brian McLean
75' Booking for Stephen Welsh after a foul on Gary Oliver.
73' Stephen Dobbie has a free header on goal which leaves Danny Rogers stranded but the ball goes out for a goal kick.
70' SO CLOSE AGAIN! Morton are piling the pressure on here as Nicky Cadden does well once again to get into the box for another effort on goal which Robby McCrorie saves and palms away from the box.
66' Substitution for Queens: OFF: Connor Murray ON: Michael Paton
64' Double substitution for Morton: OFF: Bob McHugh and Chris Millar ON: John Sutton and Cameron Salkeld
55' A fierce strike from Luca Colville is well held by Queens goalkeeper Robby McCrorie as Morton continue the hunt for a goal.
48' Early chance in the second half for Morton as Cadden finds a way into the box and launches a shot towards goal which smashes off the side netting and out for a goal kick.
46' And we are off for the second half. Come on lads!
HALF TIME: Queen of the South 1-0 Morton. A strong attacking force for Queens showing to be problematic for Morton as the Ton are down by one goal to nil at half time. Morton have had their fair share of chances however they remain without a goal heading into the second half.
38' Booking for Nicky Cadden as an off-the-ball incident sees Cadden foul an opposition player.
26' OHHH SOME EFFORT! Bob McHugh almost sneaks in with a goal after a fantastic cross in from Luca Colville is met by McHugh who's shot is blocked and goes out for a corner.
23' Almost another goal added for Queen of the South as an exceptional piece of play from Faisal El Bakhtaoui sets up an opportunity to send an effort at goal but it was not to be for Queens.
20' SO CLOSE! Kyle Jacobs almost sees his effort curl into the goal as he dribbles past Kevin Holt and sends a shot towards goal which narrowly goes past the post.
Faisal El Bakhtaoui gets the opener for Queens a shot from the edge of the box trickles by the Morton goalkeeper Danny Rogers and into the bottom left corner.
twitter.com/Morton_FC/stat…
17' Goal for Queens, 1-0.
11' OHHH! Morton's first chance of the game falls to Nicky Cadden who skips by a Queens defender and rifles an effort towards goal which sails over the bar.
8' CLEARED! Dangerous ball into the box by El Bakhtaoui was cleared out for a corner by Lewis Strapp.
1' The referee blows his whistle to begin our match here at Palmerston; let's get behind our team. MON EH TON!
#WeAreMorton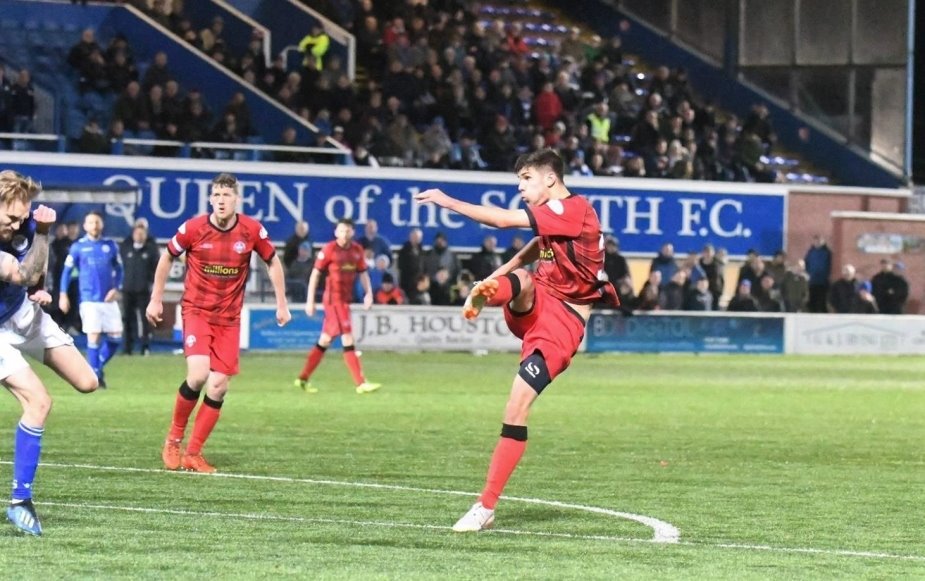 📝| MATCH PREVIEW: Queen of the South | Morton's first trip to Queen of the South of the season is Saturday's fixture as the Ton continue their Ladbrokes Championship campaign:
gmfc.net/2019/09/13/mat…
#WeAreMorton
We have an exciting event this weekend over at our sponsors Volkswagen Greenock and it is open to all with a full driving licence!🚗 Follow this link below to find out more 👇
arnoldclark.com/test-drive-tre…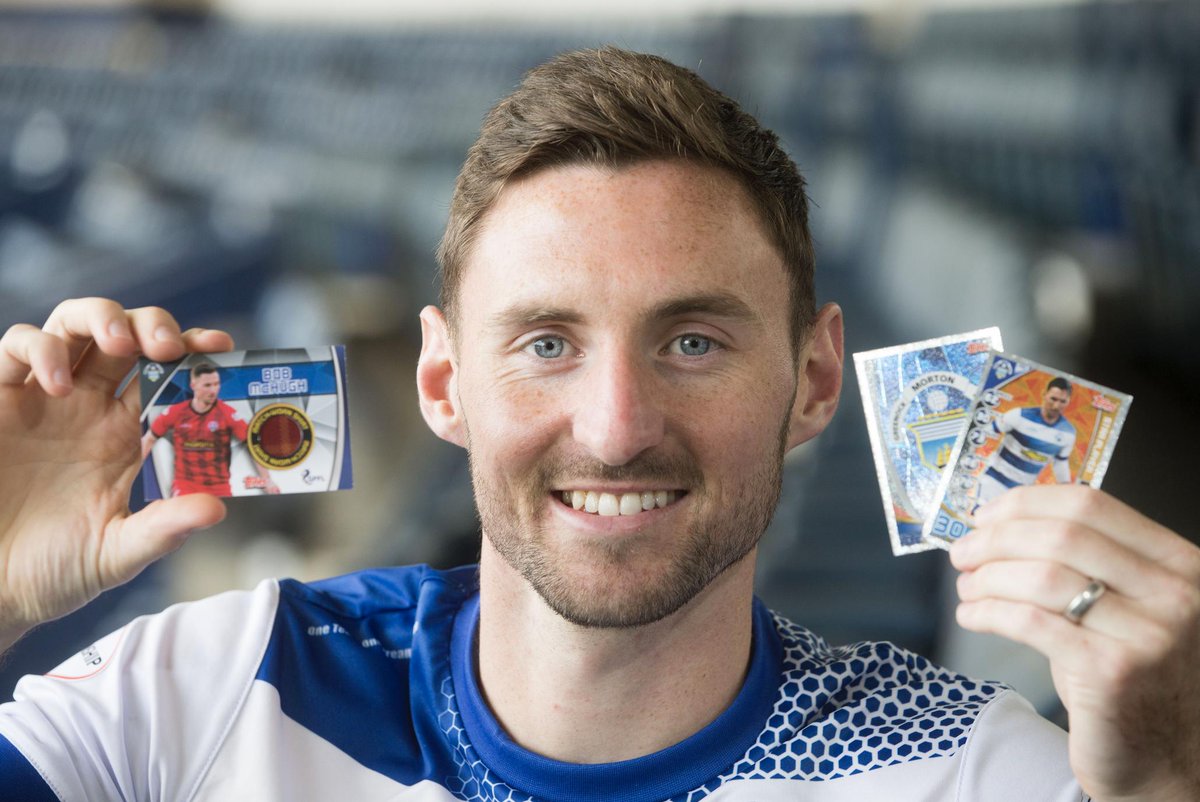 Bob McHugh represented Morton at this week's launch of the brand new
@spfl
Match Attax 2019/20 trading card game, now on sale:
gmfc.net/2019/09/12/top…